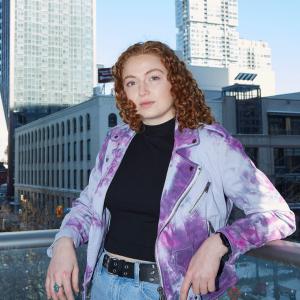 Lana Spieler
Lana Spieler was born in Barbados and currently lives and works in Toronto. She is a fourth-year thesis student in the OCAD U Drawing and Painting program who primarily paints large abstract pieces.
Spieler explores the concept of the awkward in regards to composition, technique, and colour theory. The concept of the 'awkward' can often be represented by the notion of a swirl; a swirl being as confusing as the awkward. Spieler wants to make weird looking art that is pleasing to the eye, full of contradictions, and hyperbolic juxtapositions. Spieler breaks the traditional conventions of painting, and creates quirky compositions and contrasting colour choices, executing what is taught not to be done. The compositions are completely influenced by shapes produced by architecture within the downtown core. The compositions created are not meant to look like the building itself, but are a direct result of the shapes taken from sections of the building. By breaking up the traditional grid of the high-rise buildings in the city, foregoing tradition, and the weird or awkward is shown.
Spray paint, paint markers, pen, acrylic paints, and mediums are used to create Spieler's artwork. These materials are used on stretched canvas. The substrates are reminiscent of the architectural, structural form.
The combination of intuitive practice and rigid compositions, create tension, which is reminiscent of an awkward feeling. Spieler's work is a communication of breaking the boundaries of space and form and utilizes architecture as a compositional influence.
---
When I'm not making art, I'm (a) ...
Administrative assistant for a tutoring company!
I'm really good at making (a) ...
Killer cheesecake.
What kind of artwork do you have in your home?
Lots of abstract work, primarily my own.
Describe your home in 3 words
Chaotic. Colourful. Cozy.
Favourite medium
Spray Paint. It's quick, easy, and very unpredictable.
In a previous life I was (a) ...
Sunflower :)
Select Past Exhibitions
2021
2021
2021
2019
2018
2011
2011
What do you mean, "try"?
Try-before-you-buy with a 3 month rental. 100% of your rental payments go towards the purchase (interest free). Message the artist directly, and start the conversation.
---
Art made (truly) affordable
We make it easy for you to try art with smart payment plans and try-before-you-buy models.
See How It Works
---
You're covered.
Artwork protection is included on all art rentals up to $5K. Our Customer Care team is always here to help.
Contact Us
---
Unlock Trade Access
For industries including interior design, film/TV production, & real estate staging: rent original pieces that fit with your project vision, budget and timeline.
Apply for Trade Access
---
1% from every transaction goes towards a Canadian arts nonprofit.